THANK YOU to all of our members that filed the affidavit




Here is an update from The Project on Predatory Student Lending at the Legal Services Center at Harvard Law School:
As of Monday, July 8th, we've received over 600 student testimonies since filing a lawsuit on behalf of over 158,000 defrauded former for-profit college students. Will you add your voice? Deadline is this Friday July 12th.
This Community Thread is a call to actions. We need all of our members to help us make the largest impact possible…and time is ticking

THEY EXTENDED THE DEADLINE!!! CAN WE GET TO 1,000 AFFIDAVTS??? IF WE ALL WORK TOGETHER, WE CAN MAKE THIS HAPPEN.
Help us reach 400 more members. SHARE THIS CALL FOR AFFIDAVITS.
Deadline to submit an affidavit is this

Friday July 12th
(For more information about the lawsuit, check out our For-Profit Community page)
Once you've submitted your affidavit. Next, turn your story into a 1 minute video. #studentloantruth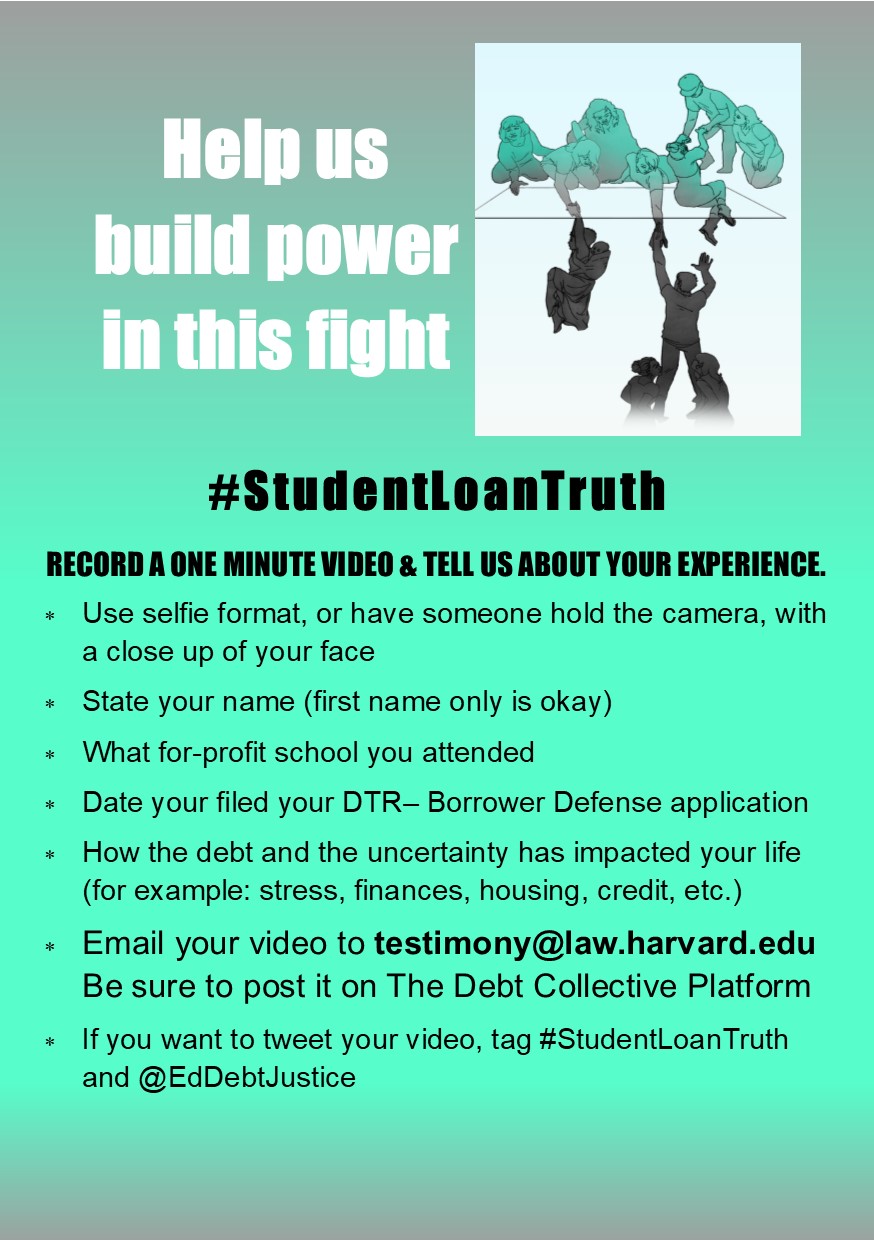 RECORD A ONE MINUTE VIDEO & TELL US ABOUT YOUR EXPERIENCE.
Use selfie format, or have someone hold the camera, with a close up of your face.
State your name (first name only is okay)
What for-profit school you attended
Date your filed your DTR– Borrower Defense application
How the debt and the uncertainty has impacted your life (for example: stress, finances, housing, credit, etc.)

We know one minute is not much time. Try writing one or two powerful sentences that capture your experience.

You can also write your first name, school, date of DTR on a piece of paper and hold this while you tell your experience.

and post useful tips here if you have experience making cell phone videos.
Email your video to testimony@law.harvard.edu
Be sure to post it on The Debt Collective Platform
If you want to tweet your video, tag #StudentLoanTruth and @EdDebtJustice