Hi All,
My name is Winter and I just joined the Debt Collective team (I'm based in Philly!). Like many of you, I'm knee-deep in debt: 20k+ of credit card debt, 100k+ in student loans, and completely destroyed credit. I was a part of the team back in the Occupy and Strike Debt days, and it was a life-changing experience to meet other debtors and realize that being in debt is a systemic failure and not a personal one. I'm super excited to get involved in this work again.
As many of you know, last month we launched a student debt strike as part of the #CollegeForAll campaign, asking people to go on strike to demand that all student debt be cancelled and public colleges and universities become tuition-free.
With the double crises of the coronavirus and the economic slowdown, we know many people (myself included!) are feeling anxious and isolated, and worried about how we're going to pay bills. On top of that, the Federal Government is likely to pass some kind of stimulus package in the upcoming weeks. It'll be up to us to put the pressure on Congress and the White House to ensure that the package includes plans to help ordinary people, and not big business.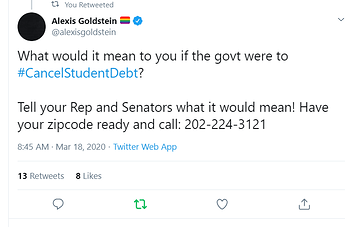 With all this mind, we want to check-in with our members and those on strike here on the platform:
How are you doing during this crisis?
Are you worried about how you're going to pay your bills? Is there concrete support other members can offer you? Is there a way you can support other members?
Are you on strike against your student debts?
Do you have ideas about how to put pressure on Congress, and how to build this movement to make sure the stimulus includes student debt cancellation and other people-centered policies?
Would you be interested in joining a weekly call with other Debt Collective members, to check-in and share ideas about what can be done in this moment?
I look forward to your answers, and engaging with you all and building a movement together to challenge and cancel unjust debts.

-Winter