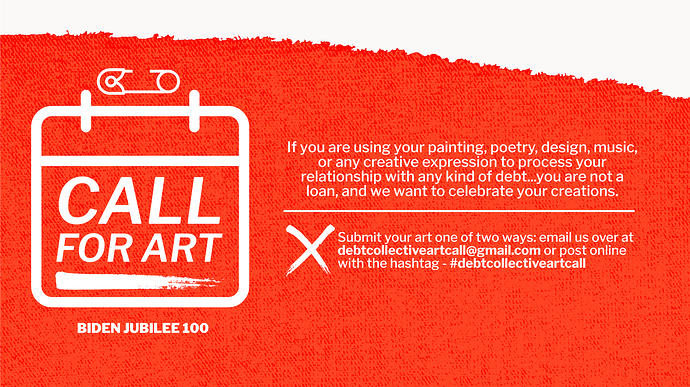 The Debt Collective is looking to uplift art that explores personal and collective experiences with debt and debt resistance. If you are using your painting, poetry, design, music, or any creative expression to process your relationship with any kind of debt…you are not a loan, nor alone, and we want to celebrate your creations.
We are looking for images, music, or video to be used on our social media accounts and websites. The Debt Collective can accept art submissions in three ways: 1) email us at debtcollectiveartcall@gmail.com, attach your work and share with us how you would like to be credited. 2) share your work on social media and use the tag #debtcollectiveartcall, and we will use your handle to credit your work 3) join us and submit entries within the community forum here!
The Debt Collective will not share art that does not reflect our community guidelines. Take a look at our Debt Collective DNA to learn more about the Debt Collective!